CleanMyMac3 is the prove that MacPaw never sits still to work on the best pure mac cleaner availble on the internet. The new CleanMyMac3 software is launched on the 7th of April 2015 to replace the popular and famous CleanMyMac2. We discussed CleanMyMac2 in a previous post: CleanMyMac 2 Reviews. In a nutshell: it is a great mac cleaner, it only lacks a mac antivirus program. This is not a reason for not buying this new CleanMyMac 3 version. Indeed, CleanMyMac 3 lacks a virus protection, but includes newly added specialized cleaning tools for removing junk files in email attachments and iTunes junk files. All these features are easily accessible from the Dashboard. Here you can see the new Dashboard of CleanMyMac 3 with the Smart CleanUp menu. It is a well designed, easy to use solution for optimizing your mac.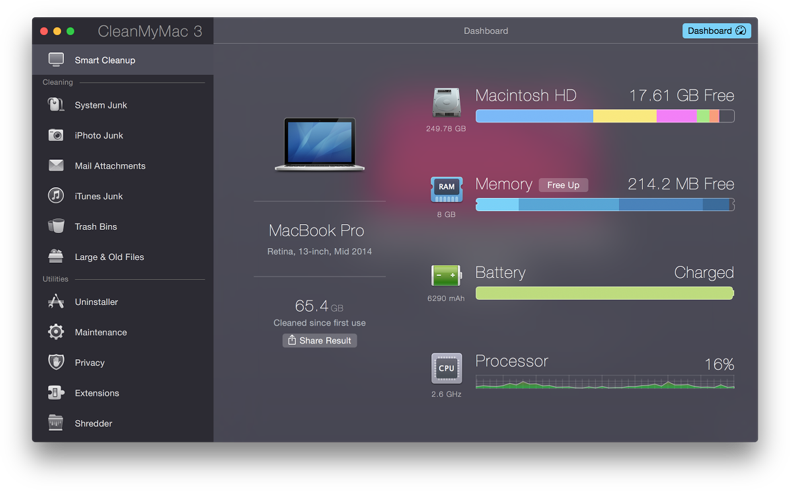 For more information: Homepage CleanMyMac3 of MacPaw
iTunes junk files and email junk files?
When you clean up your iTunes, you would typically go through the application and sort through copies of files and organize titles. But that's not really cleaning it up. iTunes stores a lot more than just your music, including iOS data. In fact, it's not just a bit of iOS data… it's a lot … the CleanMyMac3 cleans this up. CleanMyMac 3's Mail Attachment Cleaner sorts all the little extras downloaded via Mail by file type — and then helps you clean them out. It removes gigabytes of junk that Mail has stored locally. And, in the event that you need to restore a file, you can always just open the email it came in and re-download the file.
Other extra's in the CleanMyMac 3 software?
CleanMyMac 3 includes an improved Privacy utility. With this utility you can instantly remove your Skype, messasing and browsing history and other online and offline activities. And, you can clean up your history as far back as you'd like, whether it be just today's, last week's, or even last year's. With CleanMyMac 3's Privacy, your Mac's digital footprint is wiped clean. You can see a screenshot here: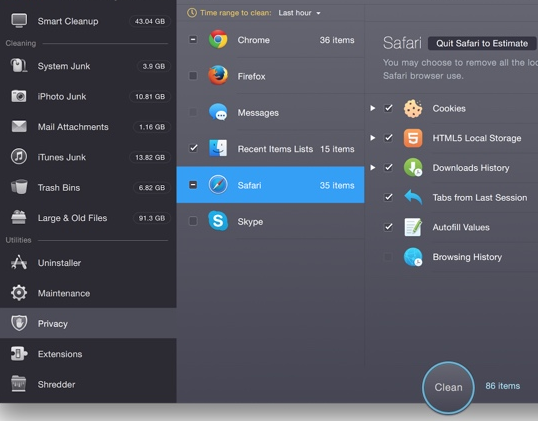 Visit MacPaw and learn more about the CleanMyMac3
What is an alternative for the CleanMyMac 3?
The most complete competitor is the MacKeeper of Kromtech. Kromtech has recently launched a new version as well: MacKeeper Human Inside. It is the new 2015 version of the Mackeeper including human assistance of real Apple certified techniciens. Oh yes, it includes a great mac antivirus software program as well. For more information: MacKeeper Reviews.