Emsisoft anti-malware review – how did they managed to create such an amazing malware scanner?

Emsisoft anti-malware, is the brand name of a powerful is a dual-engine malware scanner made by the the  inovative Austrian security software company Emsisoft.  Emsisoft's headquarter is in a small village in the Alpes,  Thalgau. This is not really very imporant, because the key developpers are living in different countries and work together in a virtual office. Not so strange, because the company is still quite new on the market and started off as  an association of malware researches interested who aimed at providing better protection against Internet threats. They followed already followed the highly successful projects Anti-Trojan, ANTS and YAW. On December 10th 2003, the first version of their new product a-squared (a²) was published. A-Squared was Emsisoft Anti-Malware's predecessor. Emsisoft focused all of their efforts in developing the first dual-malware scanner in the world. This took another 5 years before they achieved their goal. But the subsequent results were amazing.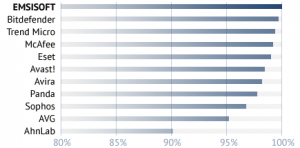 Since then the Emsisoft Anti-Malware received multiple awards: AV-Comparatives Advanced+, VirusBulletin VB100, MRG-Effitas #1, COMSS.RU #1, AVLab.PL #1. This is a very remarkle achievement. Emsisoft is one of the top security software developpers, but with only the fraction of resources.  Of course Emsisoft has all the important certifications and is a Microsoft Certified Partner and an OPSWAT Gold Partner. Particularly 2013 has been very successful Emsisoft anti-malware 8.0 scored 100% in AV-Comparatives real-time protection tests and MRG-Effitas online banking tests, got a first place in COMSS.TV antivirus test as well and received the highest possible certification in the AVLAB.PL performance test. Finally this amazing anti-malware software got a full score at VirusBulletin and received a  VB100 award both in 2013 and 2014.

The current Emsisoft anti-malware 9.0 software is an excellent, super powerful dual malware scanner. You could compare it with the Hitman Pro of SurfRight. Surfright is as well a very innovative security software company. The advantage Emsisoft has is the fact it has a tactical technological partnership with Bitdefender. Bitdefender and Kaspersky are amongst the best security software brands and score always very high in comparative tests.  Nevertheless, the Emsisoft Anti-Malware 9.0 software is much cheaper!
Recommended: please add the Emsisoft Emergency Kit. This contains a collection of programs that can be used without software installation to scan for malware and clean infected computers: Emsisoft Emergency Kit Scanner, Emsisoft Commandline Scanner and Emsisoft BlitzBlank. It scans effectively the infected PC for Viruses, Trojans, Spyware, Adware, Worms, Dialers, Keyloggers, Rootkits and other malicious programs. It is a tool comparable to the Hitman Pro Kickstart Module.  It is an ideal tool if you are dealing with a ransomware indicent, for example the infamous Department of Justice Virus. In that case the Emergency Kit can help you to remove this ransomware quickly. So in case of an emergency it is an handy addition.
 Relevant artikels:
 Sources: